Central Fire Station
317 North 4th St.
Lot ::
Key ::
Photograph from the Journal and Courier




Watercolor painting by architect Walter Scholer Sr.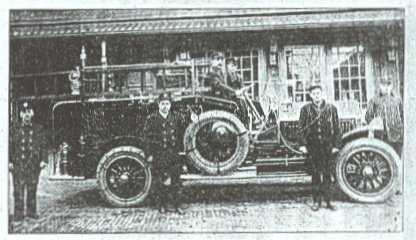 Built in 1910, demolished in the 1960's

Some dates from history
August, 1909: Work began on Central Fire Station near Fourth and North streets. Spring 1911: June 24, 1910: The Lafayette Fire Department occupied the new Central Station.
Spring 1911: Lafayette tested a motorized firetruck on hills and turns. Housed at the Central Station and in use from 8 a.m. to 6 p.m., the machine was painted red, 14 feet long, and carried chemicals, two ladders, axes and 1,200 feet of hose. It overturned on May 5 during a demonstration with a few city officials aboard at Fourth and South, and the City delayed purchasing a motorized truck until
Jan. 22, 1912. May 4, 1912: Lafayette bought and put into service a motorized ambulance/police car from Central Fire Station. Police operated the green painted truck marked "City Service."